Dr. Andrew Tran attended the University of Southern California as an undergrad and graduated with a Bachelor's of Science Degree in Biological Sciences in 1995. He then continued his studies at the USC School of Dentistry and received his Doctor of Dental Surgery Degree in 2000.
With over 20 years of experience in the field, Dr. Tran has a comprehensive background in dentistry. His practice philosophy is to treat every patient as one would treat their family – with dignity, respect, kindness, and compassion. Dr. Tran strives to provide the best dental experience possible. He prides himself on getting to know his patients on a personal level, and taking all the time necessary to explain treatment procedures and to answer any questions so that his patients feel both comfortable and informed. This is how he's built his reputation over the years for providing the highest quality dental care.
You'll also notice that Dr. Tran strives to provide the most current procedures available, and for this reason, he has invested in state-of-the-art dental technology. He also continues to take hundreds of hours of continuing education in order to best serve his patients.
Dr. Tran lives in Stevenson Ranch with his wife Tina and two young daughters, Nicole and Erin. He enjoys golfing and fishing in his free time and loves doing everything Disney with his family. He is a life long USC fan and loves his Trojans. Fight On!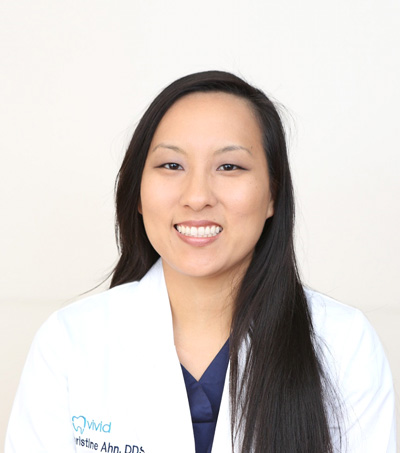 Dr. Christine Ahn grew up in Chicago and San Diego, and then moved to Los Angeles to attend UCLA for both her undergraduate studies and dental training. She received her Bachelor of Science Degree in Molecular, Cell, and Developmental Biology in 2009 and her Doctor of Dental Surgery degree in 2014.
After graduation, she completed the General Practice Residency at the VA Sepulveda Ambulatory Care Center in 2015. Besides being extremely skilled in all phases of dentistry, Dr. Ahn is committed to providing her patients with quality individualized dental care. Outside of the office, she enjoys running, traveling, attending concerts and shows, and spending time with friends and family.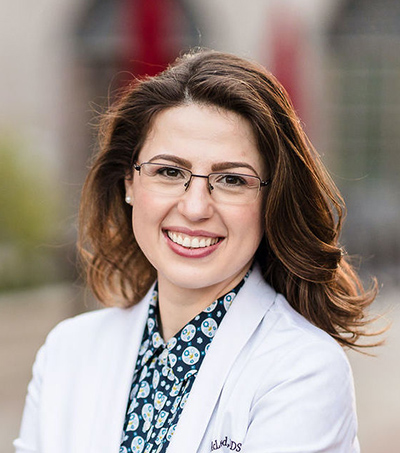 Dr. Bilyana McLeod was born and raised in Bulgaria. She received her undergraduate degree in Biology at Hillsdale College in Michigan and completed her DDS degree at USC where she was the recipient of the Rex Ingram award for Excellence in Operative Dentistry.
Outside the office, Dr. McLeod is busy with her twin boys and enjoys time cooking, exploring various cuisines, and building model trains with her husband.